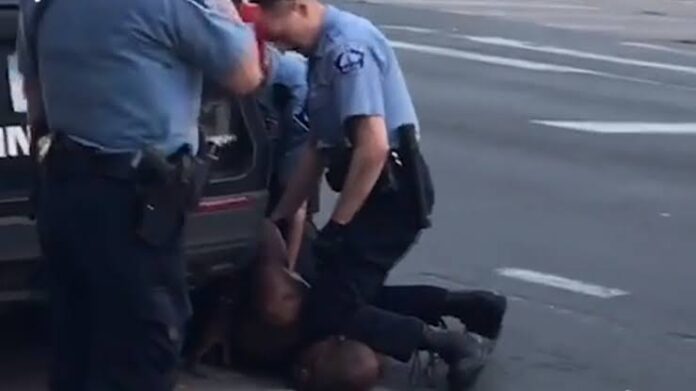 The videos begin with Lane, 37, and Kueng, 26 — both in their first week as Minneapolis police officers — entering Cup Foods. A staff member rushes up to them waving the banknote. 'Before they drive off. He's parked right here. It's a fake bill from the gentleman,' he tells the cops.
Lane and Kueng then both approach Floyd's blue Mercedes SUV on the other side of the street. Lane goes to the driver's side where Floyd is sitting at the wheel and Kueng approaches the passenger side, where Floyd's ex, Shawanda Hill is in the back seat and a friend, Maurice Hall, is in the front.
Lane is seen knocking on the car window with his flashlight, but Floyd does not immediately open the door. Once the door is open, Lane immediately pulls out his handgun and points it straight at Floyd's head.
'Hey man, I'm sorry,' Floyd says and apologizes again before Lane gets belligerent.
'Put your f***ing hands up right now! Let me see your other hand,' the cop is heard saying.
Floyd does not immediately put his hands on the wheel. 'Put your f*ing hand up there,' Lane orders him. 'Jesus Christ, keep your fking hands on the wheel.'
Floyd tells the officer he had been shot before, and Lane replies: 'Keep your f***ing hands on the wheel.'
Lane then tells Floyd to put his foot inside the vehicle. 'I'm sorry, I'm so sorry,' Floyd replies. 'God dang man. Man, I got shot the same way, Mr. Officer, before.'
'Okay. Well when I say ''Let me see your hands,'' you put your f***ing hands up,' Lane responds.
The cop then orders Floyd out of the car. 'Hands on top of your head. Step out of the vehicle and step away from me,' he says.
Floyd replies: 'Okay. Mr. Officer, please don't shoot me. Please man.'
'I'm not going to shoot you,' Lane says. 'Step out and face away.
'I'll look at you eye-to-eye. Please don't shoot me man,' Floyd replies. 'I just lost my mom, man.'
Floyd, 46, is seen sobbing as Kueng and Lane pull him out of the car and handcuff him.
After getting Floyd out of the car, Lane then starts talking to the passengers, Hill and Hall. 'Why's he being all squirrelly and not showing us his hands and just being all weird like that?' Lane asks.
'Because he's been shot before,' Hill, 45, replies.
'Well I get that,' Lane says. 'But still, when officers say: ''Get out of the car…''
'Is he drunk or something?'
'No, he's got a thing going on,' Hill says, pointing to her head and making a circular movement with her finger as if to suggest her ex had mental problems. 'About the police,' she adds
Chauvin and a fourth officer, Tou Thao, were called in to assist. All four were fired the day after Floyd's death. Chauvin, 44, has been charged with Floyd's murder and the other three face charges of aiding and abetting murder. The events have led to months of Black Lives Matter protests throughout the country over police racism and brutality.