Dozens killed, thousands wounded in Beirut blast: Live updates
Officials expect death toll to rise after huge blast rips through Lebanon's capital.
Lebanese Health Minister Hamad Hassan says at least 25 people have been killed and more than 2,500 are wounded in a massive explosion at the port in Lebanon's capital, Beirut.
The explosion released a shockwave causing widespread damage to buildings and shattering windows in different parts of the city.
The cause of the explosion was not immediately clear.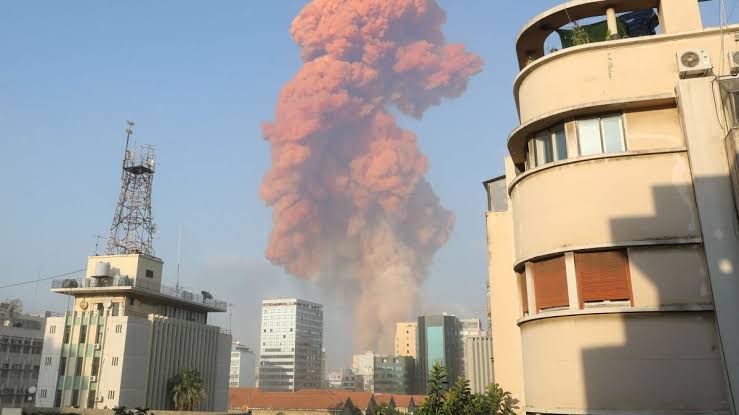 Here are the latest updates:
19:38 GMT – At least 50 people killed: health minister
Lebanon's health minister says at least 50 people have been killed and 2,700 have been injured.
19:35 GMT – Lebanon PM says those responsible for Beirut explosion will pay the price
Lebanon's Prime Minister Hassan Diab has said that those responsible for an explosion at a "dangerous" warehouse in Beirut port area that rocked the capital would pay the price.
"I promise you that this catastrophe will not pass without accountability… Those responsible will pay the price," he said in a televised speech.
"Facts about this dangerous warehouse that has been there since 2014 will be announced and I will not preempt the investigations".
19:33 GMT – Israel offers humanitarian aid
Israel says it has offered humanitarian aid to Lebanon via foreign channels, as the two countries have no diplomatic relations.
"Under the direction of Minister of Defence Benny Gantz and Minister of Foreign Affairs Gabi Ashkenazi, Israel approached Lebanon through international defence and diplomatic channels to offer the Lebanese
government medical humanitarian aid," the two said in a joint statement.
19:22 GMT – Explosion destroys Italian civilian ship
At the port Al Jazeera's Timour Azhari spoke to Vincenco Orlandini, 69, a crew member of an Italian civilian ship, the Orient Queen, that was docked near the blast site.
He was covered in blood after the explosion threw him across a room of his ship, while several people on board were wounded and taken to hospital, Azhari said.
"I heard the blast and I flew to the opposite [side] of the lobby. I landed on the carpet and I'm lucky; I think that saved me. The ship is totally destroyed – the cabins, the lounge, everything," Orlandini said.
A civil defense worker who has worked in the sector for 20 years was in disbelief at the scale of the damage.
"I've seen the assasinations and the explosions but this is something else. There is something wrong here," he told Al Jazeera.
19:13 GMT – Israel: No reason not to believe Beirut blast was an accident
Israeli Foreign Minister Gabi Ashkenazi says the massive explosion in Beirut "was an accident caused by a
fire. I suggest caution with speculation – I do not see any reason not to believe the reports from Beirut".
He made the comments to Israel's Channel 12.
19:07 GMT – UK PM Johnson offers support to Beirut
UK Prime Minister Boris Johnson says the UK is ready to provide any support it could to help Beirut.
"The pictures and videos from Beirut tonight are shocking," Johnson wrote on Twitter. "All of my thoughts and prayers are with those caught up in this terrible incident.
"The UK is ready to provide support in any way we can, including to those British nationals affected."
18:53 GMT – More than 25 people dead, 2,500 wounded: health minister
Lebanese Health Minister Hamad Hassan says more than 25 people have been killed and more than 2,500 are wounded.
"It is a disaster in every sense of the word," Hassan said in an interview with several television channels while visiting a hospital in the Lebanese capital.
18:50 GMT – Iran ready to help Lebanon, Zarif tweets
Iran is ready to help Lebanon in any way necessary, Iranian Foreign Minister Mohammad Javad Zarif has tweeted.
"Our thoughts and prayers are with the great and resilient people of Lebanon. As always, Iran is fully prepared to render assistance in any way necessary. Stay strong, Lebanon," Zarif tweeted.
18:48 GMT – More than 2,200 injured: Lebanese Red Cross
The Lebanese Red Cross says that more than 2,200 people have been injured and that the numbers are likely to rise, local broadcasters have reported.
Lebanese army soldiers are seen while a helicopter puts out a fire at the scene of an explosion at the port of Lebanon's capital Beirut.
18:34 GMT – Secretary General of Lebanese Kataeb Party among the dead
Among the dead is the Secretary General of the Lebanese Kataeb Party, the party has announced.
The headquarters of the Kataeb Party, one of the oldest parties in the country, is located right next to the port.
18:31 GMT – Some 400 – 500 people wounded: hospital sources
Local television quoted hospital sources as saying some 400 to 500 people have been wounded, and that all of the hospitals in the capital are overwhelmed as people are brought in.
18:20 GMT – Dozens of people being turned away from hospital
Dozens of people are trying to enter a hospital in Beirut and are being turned away, Al Jazeera's Timour Azhari said.
"People are discussing about which hospital they can get to across the city. This hospital, the Hotel-Dieu hospital has formally announced that people should stop coming here."
"There are corridors lined with wounded, bloody people," Azhari said.
"There are people crying. The hospital itself has sustained damage; its ceiling looks very precarious, it looks like it's going to fall apart."
18:17 GMT – PM calls for day of mourning on Wednesday
Lebanese President Michel Aoun has called for an emergency meeting of the country's Supreme Defence Council, according to the presidency's Twitter account.
Prime Minister Hassan Diab has called for a day of mourning on Wednesday.
18:08 GMT – Ammonium nitrate stored in the port: Interior Minister
The Lebanese Interior Minister has said that ammonium nitrate was stored in the port, which is what caused the explosion, local media reported.
He said Lebanese customs should be asked about why it was there.
Lebanon-based broadcaster Mayadeen cited the country's customs director saying tonnes of nitrate exploded.
17:51 GMT – In Pictures: Lebanon's capital Beirut shaken by massive explosion
A massive explosion has rocked Lebanon's capital, Beirut, causing many casualties, damaging buildings and shattering windows.
The blast, which flattened much of the capital's port, was felt across the city as a giant mushroom cloud rose above it.
People help a man who was wounded in a massive explosion in Beirut. [Hassan Ammar/AP Photo]
17:38 GMT – 'Cars were thrown three floors up onto roofs of factories': Al Jazeera correspondent
Al Jazeera's Timour Azhari reaching the Beirut port shortly after the explosion, said the site looks like a "wasteland" with debris seen everywhere.
"Cars [from the ground] were thrown three floors up onto roofs of factories here," Azhari said.
"Rescue services have not been able to reach the actual site of the explosion yet because fires are still raging. Helicopters are circling the area trying to extinguish the fire.
"It really was an incredible explosion. People here are saying that they have never seen anything like it.
Even on the way here the roads were covered in glass," Azhari said.
17:27 GMT – Explosion 'caused by highly explosive material stored in warehouse': Official
Al Jazeera's Zeina Khodr reporting from Beirut said the head of General Security, General Abbas Ibrahim, visited the site of the explosion and said it appears the explosion was caused by highly explosive material that was stored in a warehouse.
According to Ibrahim, the explosive material was confiscated years ago.
"We are at the entrance of Beirut's port, you can see behind me the chaos. Ambulances continue to arrive, continue to evacuate the casualties," Khodr said.
"So far according to security sources, at least 10 people have been killed, but we are expecting that number to rise because we understand from the health minister as well as the Lebanese Red Cross that there has been hundreds of injuries.
"Ambulances have been called from across the country to help in the rescue effort. It was a massive explosion; you can see the fire trucks arriving at the scene trying to put out the flame."
17:25 GMT : Large explosion rocks Lebanon's capital
Large explosion rocks Lebanon's capital
17:22 GMT – Israel not involved in Beirut explosion, Israeli official says
Israel has nothing to do with a huge explosion at the Beirut port area, an Israeli official has said.
"Israel has nothing to do with the incident," the official said on condition of anonymity.
Israel's Foreign Minister Gabi Ashkenazi told Israeli N12 television news that the explosion was most likely an accident caused by a fire.
16:51 GMT – At least ten people killed in explosion: Report
At least 10 bodies have been taken to hospitals following the explosion in Beirut's port area, a Lebanese security source and a medical source has told Reuters news agency.
16:50 GMT – Hundreds of people wounded: health minister
Hundreds of people have been wounded in a huge explosion that ripped through Lebanon's capital, Beirut, Hamad Hassan, the country's health minister, told Al Jazeera