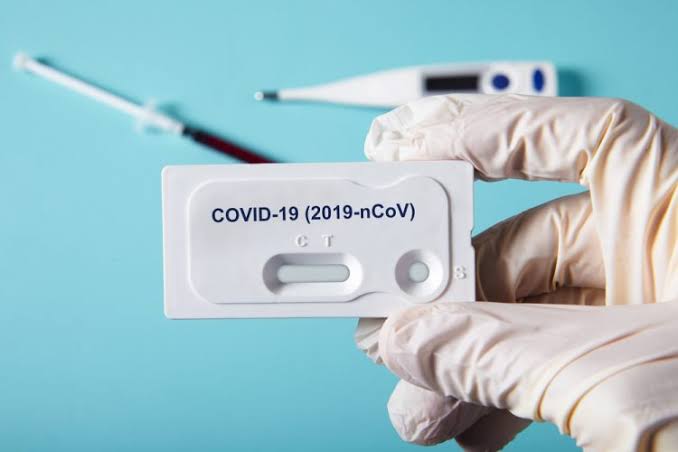 The Nigeria Centre for Disease Control (NCDC) has insisted that coronavirus (COVID-19) tests conducted within its molecular laboratories across the country are free.
It stated this on Sunday via its verified Twitter handle.
According to the agency, the scale-up of testing is key in assessing the nation's COVID-19 situation and coordinating response across the country.
The 61 NCDC facilities are located in 30 states across the country and the Federal Capital Territory (FCT).
Some of them include the State Specialist Hospital, Amachara in Abia State; Federal Medical Centre, Yola, Adamawa; Molecular Diagnostics Laboratory, Akwa Ibom; and Virology Lagos University Teaching Hospital, Lagos, among others.
NCDC's tweet came amid the controversy over the COVID-19 tests to be conducted for SS3 students preparing for the West African Senior School Certificate Examination (WASSCE) in Ogun State.
Ahead of the resumption of revision classes for the students, the state government had asked them to take the tests for COVID-19 and malaria.
While the government said it would be responsible for the cost for students in public schools, it asked parents/ owners of private schools to do the same for their students.
This led to a protest in Abeokuta, the state capital by some parents of private school students over the purported payment of N25,000 for the test.
In its reaction, the government said it has decided to further assist the private schools by negotiating "a huge discount" in the cost of the COVID-19 test with some healthcare service providers.
It, however, advised private school owners and parents to engage any other service provider of their choice as long as they were certified by the NCDC as COVID-19 Test service providers.
See the full list of the 61 NCDC laboratories below:
S/N LABORATORIES STATE TYPE
1 State Specialist Hospital, Amachara lab Abia GeneXpert
2 State Specialist Hospital , Amachara PCR Laboratory
3 Federal Medical Centre Yola Adamawa PCR Laboratory
4 Molecular Diagnostics Laboratory, Akwa Ibom State Akwa-Ibom PCR Laboratory
5 Accunalysis medical diagnostics Anambra PCR Laboratory
6 COOUTH Awka Abbott lab PCR Laboratory
7 Bauchi state Reference Laboratory Bauchi PCR Laboratory
8 Abubakar Tafawa Balewa University Teaching Hospital PCR Laboratory
9 161 AHM lab Benue GeneXpert
10 University of Maiduguri Teaching Hospital Borno PCR Laboratory
11 Lawrence Henshaw Memo Calabar Cross Rivers GeneXpert
12 UCTH Lab
13 Delta Mobile Laboratory Delta PCR Laboratory
14 Alex Ekwueme Federal University Teaching Hospital Ebonyi PCR Laboratory
15 Irua Specialist Teaching Hospital Edo PCR Laboratory
16 University of Benin Teaching Hospital PCR Laboratory
17 Edo Specialist Hospital, Benin PCR Laboratory
18 Ekiti – 54gene Ekiti PCR Laboratory
19 University of Nigeria Teaching Hospital lab Enugu GeneXpert
20 University of Nigeria Teaching Hospital Molecular Virology Laboratory PCR Laboratory
21 Everight diagnostics and Laboratory services Ltd Imo PCR Laboratory
22 Federal Medical Centre Owerri lab GeneXpert
23 Jigawa molecular lab Jigawa PCR Laboratory
24 DNA laboratory Kaduna PCR Laboratory
25 Africa Centre of Excellence for Neglected Tropical Diseases and Forensic Biotechnology, Ahmadu Bello University Zaria PCR Laboratory
26 Mobile lab Kaduna GeneXpert
27 Yusuf Dansoho Memorial Hospital lab GeneXpert
28 Aminu Kano Teaching Hospital Kano PCR Laboratory
29 54gene Kano PCR Laboratory
30 International Foundation Against Infectious Diseases in Nigeria (IFAIN) PCR Laboratory
31 EHAlab Kano PCR Laboratory
32 Bayero University Kano PCR Laboratory
33 Sahel Centre for Molecular Diagnostics and Research, Katsina Katsina PCR Laboratory
34 State Specialist Hospital Kogi lab Kogi GeneXpert
35 Sobi Specialist Hospital Kwara PCR Laboratory
36 Virology Lagos University Teaching Hospital Lagos PCR Laboratory
37 Nigeria Institute for Medical Research Closed System
38 Biosafety Level-3 Laboratory PCR Laboratory
39 54gene Lagos PCR Laboratory
40 NCDC Central Public Health Labortaory PCR Laboratory
41 Zankli lab Nasarawa GeneXpert
42 54gene Ogun Ogun PCR Laboratory
43 Afriglobal Medicare Laboratory PCR Laboratory
44 FMC Owo Ondo PCR Laboratory
45 African Centre of Excellence for Genomics of Infectious Diseases Osun PCR Laboratory
46 University College Hospital Virology department laboratory Oyo PCR Laboratory
47 Biorepository and clinical virology lab, University College Hospital PCR Laboratory
48 National Veterinary Research Institute Plateau PCR Laboratory
49 Jos University Teaching Hospital lab GeneXpert
50 University of Port Harcourt Teaching Hospital Rivers PCR Laboratory
51 Rivers State University Teaching Hospital Satallite Molecular Laboratory PCR Laboratory
52 SPDC (shell) lab PCR Laboratory
53 Indorama Company Molecular Laboratory PCR Laboratory
54 Centre for Advanced Medical Research and Training, Usmanu Danfodio University Sokoto PCR Laboratory
55 NCDC National Reference Laboratory FCT PCR Laboratory
56 Defense Reference Laboratory Closed System
57 FCT – 54gene PCR Laboratory
58 State House Annex Clinic lab (SHAC) PCR Laboratory
59 University of Abuja, Gwagwalada Laboratory GeneXpert Laboratory
60 United Nations IOM Lab GeneXpert Laboratory
61 Molecular Diagnostics Laboratory, Gombe State Specialist Hospital Gombe PCR Laboratory