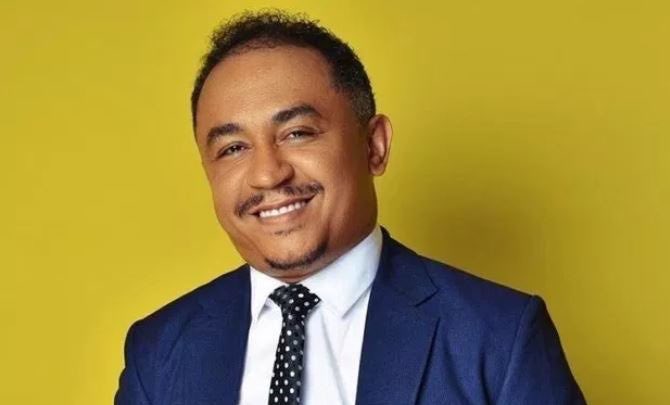 A Nigerian broadcaster, Daddy Freeze, has apologised to the founder of Living Faith Church, David Oyedepo, over remarks he made in a 2018 video which resurfaced online last week.
In the viral video, Daddy Freeze, who is known for his critical stance against the teachings of some Nigerian pastors, described Mr Oyedepo as a "baldheaded fowl" among other things.
He also mentioned Enoch Adeboye of Redeemed Christian Church of God, in the video .
The resurfaced video has generated controversies and has seen the likes of Paul Enenche of Dunamis International Gospel Centre and The Senior Pastor of Covenant Christian Centre, Poju Oyemade, condemn Daddy Freeze's remarks.
Mr Enenche described Daddy Freeze as a "mad dog suffering from bipolar disease" in a video sermon which surfaced online on Saturday.
Mr Oyemade, on the other hand, insisted that it was wrong to mock an older person. The cleric, who said this in a Facebook post on Saturday, explained why "he agrees in principle with Pastor Ibiyome and Pastor Paul Eneche."
He wrote, "To openly mock someone much older than you and also a person who is in authority should be roundly condemned.
"The principle of publicly speaking out against such behavior is right for if left unanswered in the public square, it will become the culture and many who are young and impressionable people will follow suit".
In his apology, Daddy Freeze promised to desist from addressing faith-based issues in confrontational manners.